Well, my internet was down for a little bit, so here's a few updates. Bought my wife a running project bike for her to learn on. Swooped up this cool little 1964 Bridgestone BS90 for a song and a dance. Now I have to teach her how to ride.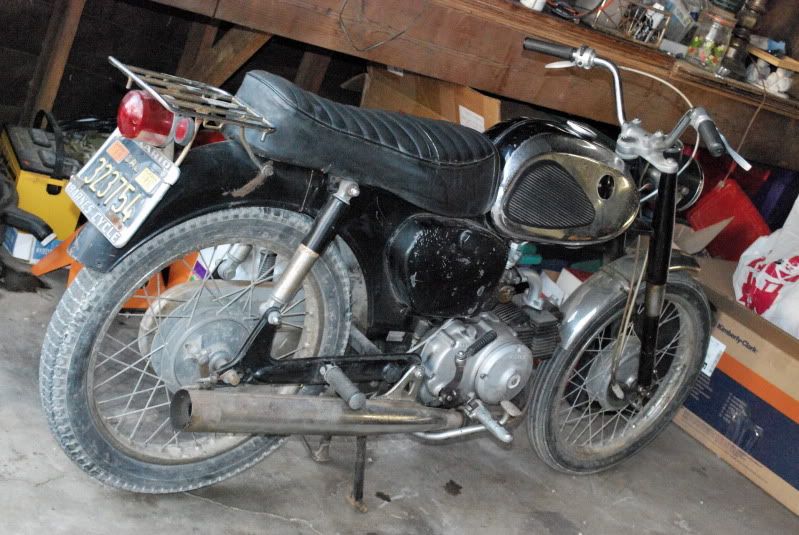 I have also put my truck up for sale:
1966 F100 (Clean title):
300 straight six, runs and drives but leaks oil (Have new complete Fel-Pro motor gasket kit and oil pan gasket and new chrome valve cover)
Cruiseomatic 3 speed auto trans (Shift linkage needs adjustment, but does shift in to all gears and park)
Came without keys and starts on a toggle switch and push button, but I have bought new locks and ignition cylinder and ignition with with keys and a new ignition bezel
Just replace passenger side wing window glass, but still needs channel lining
Have new tires for it (235/75/R15 Goodyear Wrangler tires, set of 4)
Bought two stock steel wheels for the rear so all the steel wheels will match (Was going to media blast and powder coat wheels before mounting new tires)
It seems everything on this truck works except for the horn (Needs turn signal arm for the signals, but I pushed the hazard switch and the signal lights blink)
I drove it from Big Bear to Redlands, then to my house without issues (About 63 miles)
Clean title and is registered until September of this year
Under 50K original miles
Have a new steering rag joint for it (Needs to be installed)
Has small dings, and only one dent (Passenger side front fender near head light)
Only rust I have found is the size of a quarter on the floor right under the gas pedal.
Yes it runs, but the carb has a sticky float so it's a little tricky to start at first, but if you use the manual choke, it will start. Once it warms up, it runs and idles fine.
The only reason it's not drivable right now is because of the old tires that are still on it. So it will need to be towed. Like I said though, I have a brand new set of Goodyear Wranglers that go with it. The title is clear and the tags are good until September. This is a project truck, so don't expect a pretty truck for $1200 (That means it needs some work, if it didn't I'd either keep it or sell it for a lot more). Only reason I'm selling it is I need to get a motorcycle (No, I don't want to trade for a scooter or anything else, unless you want to trade me twelve $100 bills for it).
Here's some specs on the truck
129" wheel base, conventional cab, G.V.W. 5000, original color code was M for Wimbledon White, but it has an old Orange weathered spray job some time in the past, Built at the San Jose, CA assembly plant October of 1965, Cruisomatic 3 speed auto trans, 3.50 rear axle according to code, standard cab bench seat
$1200 for a running, registered truck that could be drivable if you mount and balance new tires on the rims (New tires included). Can't beat that.
Have a N.O.S. Cherrybomb muffler that I was going to put on. This is a running and driving classic project with a clean title
You can reach me at nine zero nine 553- zero4zero6, my name is Matt.